About The Tehran American School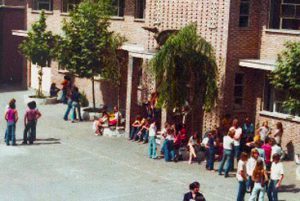 The Tehran American School began in 1954 in Tehran, Iran and closed its doors in December 1978 due to the Iranian Revolution. Thousands of students, who were mostly American, attended the school over the years. In 1977, it was the largest American School outside of the United States.
During the 1950's, 1960's and 1970's, the American population in Iran, especially Tehran, steadily increased, as the Shah brought Western technology to his country. Despite today's Iran/United States relationship, from the 1950's through the 1970's, Iran was a pleasant and hospitable place for Americans and all Westerners to live.By 1977, the American population in Tehran was in the thousands. The Tehran American School (TAS) enrollment was somewhere around 2000 in grades 1 through 12, making it one of the largest American schools outside of the United States.
It was a special place for many of the Americans who lived there during this time. There were many activities and things to do for American kids, teenagers, and their parents. The school provided the usual activities that Americans expect such as sports teams that competed throughout the city, intramural sports, cheerleading, band, drama, chorus, art, modern dance, gymnastics, a variety of clubs, etc. TAS was not the only school in Tehran that American kids could attend to receive quality education. There were others such as our arch rival in sports, Community School, which was open to all nationalities, as well as the International School and Iranzamin.
Americans and their families living in Iran at that time were involved in all industries and businesses including aeronautical, engineering, oil, data processing, communications, etc., and the American Armed Forces.
Brief History of the Tehran American School taken from the Fall 1976 TAS Football Program –
"Back in 1954 the U.S. Ambassador to Iran, Loy Henderson, responding to the needs of a then "rapidly growing" American community for an educational facility, directed the inception of TAS. Ninety-four students in grades 1 through 8 comprised our first student body.
By 1960, grades 9 through 12 were added and the "sixties and early 1970" saw the American School student enrollment mushroom to a seemingly staggering 1,400 by May of 1973.
Growing pains were just beginning however, and during the past two years an additional population explosion has occurred and this year the Tehran American School will become the largest overseas school in the world with an enrollment of over 3,000 students.
The school's Board of Trustees and Administration have shown great insight in meeting this rapid expansion by providing the newest and most modern of facilities for our students body. The new Elementary and Middle Schools were completed in the fall of 1974. A new gymnasium and total community athletic complex was completed this fall, while a complete High School complex is on the drawing boards for completion in the near future. Ninety-four then, 3,000 now – thus has been the growth of the Tehran American School."